Advanced Yoga Teacher Training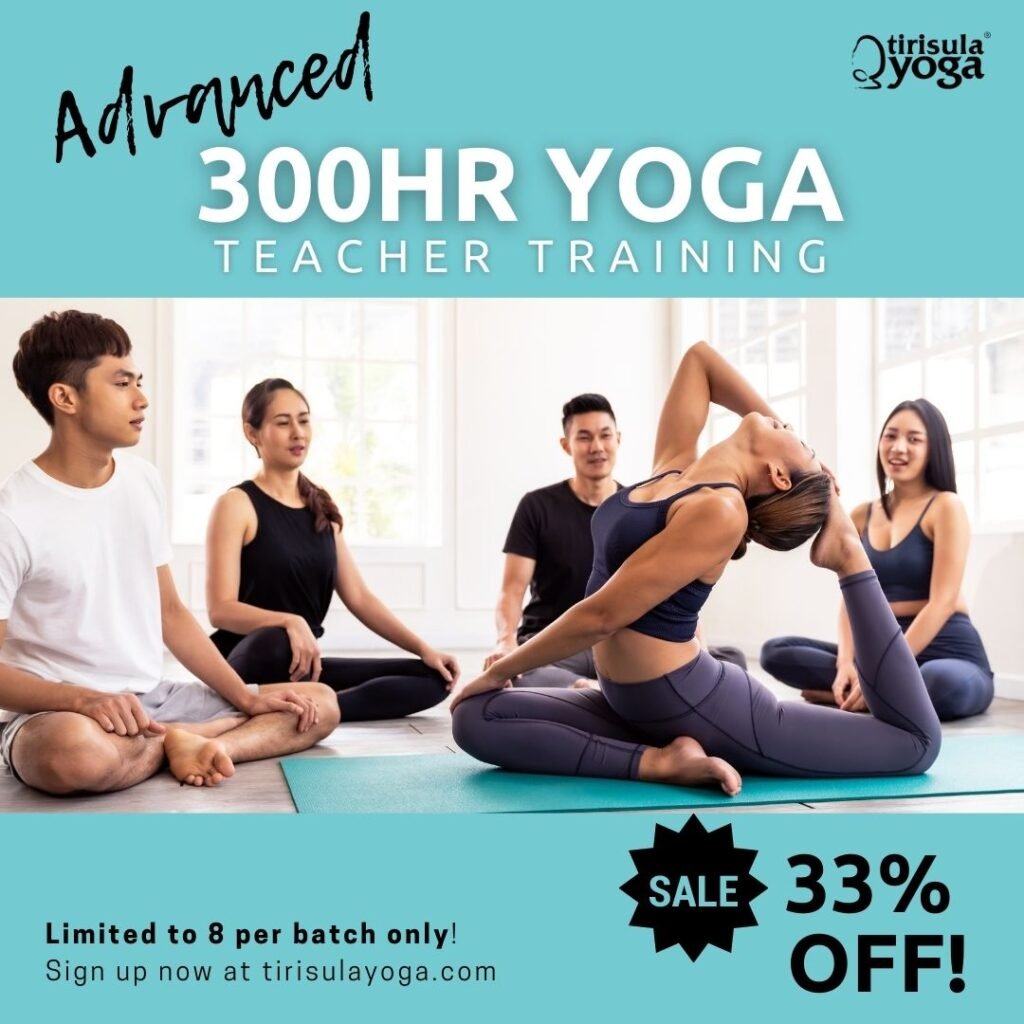 Tirisula Yoga's 300hr Advanced Yoga TTC  is catered for those who want to deepen their base knowledge, teach with more vigour, intricacy and details. Focus areas :
on developing the steps rather than jumping into final pose,
expand the repertoire by multidimensional sequencing,
specific and precise alignment concepts,
learning to instruct advanced poses by breaking down the poses to simple manageable steps
individualised mentoring
advance asana practice
details and analysis of Yoga Philosophy
dharana techniques and meditation from the Shiva Sutras
advanced healing pranayama techniques from the traditional texts
Ayurvedic concepts
Yoga therapy for bodily conditions like arthritis, scioliosis, kyphosis, lordosis, high blood pressure, diabetes, thyroid issues and many more
Detailed analysis and application of Patanjali Yoga Sutra
The 300hrs YTT is open to all yoga practitioners who have completed their 200hr Yoga Teacher Training who intend to advance their practice as well as improve their teaching modality and consulting techniques.
Instalment plans available!
Interest-free!
Curriculum Highlights
---
•Beyond the Basics of Asanas – where to focus energy and origin of movement
•The Alchemy of Yoga and Positive Transformation
•Multi-dimensional Sequencing – Advanced Techniques
•Holistic Alignment Concepts
•Applied Anatomy and Kinesiology
•Therapeutically Oriented- Adaptations of Yoga
•Guiding Yoga Nidra and Restorative Yoga
•Advanced Verbal and Physical Assisting
•Enhancing Observation Skills
•Energetic Anatomy and Prana Vidya
•Practice and Teaching of Meditation and Pranayama
•Non-Dual Yoga Philosophy, Yoga Sutras
•Applying Ayurveda to the Asanas and other practices
Focus is on "Yoga as a Learning and Experiential Journey" rather than an one-off thing.
In a nutshell…
Graduates receive the Tirisula Yoga 300 Hr Advanced Yoga TTC. 
Yoga teachers are trained on how to teach the traditional
Ashtanga Primary/Secondary Series
. 
A comprehensive study of kinesiology is incorporated into the detailed study of alignment. 
Students learn hands-on manual adjustment techniques used in the Mysore tradition.
Get higher fees for the classes taught after graduation
Opportunity to teach at Tirisula's existing and new studios
Requirements:
Participants should have completed a 200hrs Yoga Teacher Training Course.
Recommended Readings:
**The Yoga Sutras of Patanjali by BKS Iyengar
** Bhagavad Gita by Paramahamsa Yogananda
** Hatha Yoga Pradipika by Swami Swatmarama
** Asana, Pranayama, Bandha, Mudra by Swami Satyananda Saraswati
** The Vigyana Bhairava Tantra, Shiva Sutras
Fees:
Standard fees: $5000  

Paynow Promo: $3990 (For Tirisula Graduates), $4510 (for public)

 

Payment by credit card: $4100 (for Tirisula Graduates); $4610 (for public)

Fees include 30 classes at Tirisula Yoga (worth $570)!

The fees 

include

 course fee, e-manuals, certificate and one-time exam fee. The fees exclude recommended books.

Refer to our

terms and conditions

for postponement and cancellation policy.
Interest free instalment plans available for DBS, UOB and other major bank credit bards. Pls check with your bank's website for details. 
Duration:
Activity
Hrs
Practice and Theory (in studio)
100
Attending Tirisula Yoga Classes (in studio)
to be completed any time from the day of registration to within 1 month from the last day of the course
30
Pranayama and Meditation (Self-practice)
30
Self-study and reading of texts
50
Yoga Therapy Project + one-to-one teaching
40 
Presentation (includes research, preparation and actual presentation)
20 
Co-teaching with Master Trainer
 6
Teaching hours (at any venue)
 24
Total
300
Sale!
Advanced 300hr Yoga Teacher Training
$4,100.00 – $4,610.00
Usual fees $5000
Get 30 classes free (worth $600!)
Usual price: Course fee $5000 + 30 classes $600 + Reiki Level 1 $400 = $6000
Now special promo 33% off
Date
Min 5 students to start. Please express your interest if you would like to join by sending us an email to [email protected]
Venue
Paya Lebar Studio
Price
Tirisula 200hrs YTT Graduates:
$4100 (Sign up online, pay by credit card)
$4020 (Paynow promo! WhatsApp us to register and pay via Paynow!)
Public:
$4610 (Sign up online, pay by credit card)
$4520 (Paynow promo! WhatsApp us to register and pay via Paynow!)
Limited to 8 per batch only. 

Sign up now to secure your spot.
(Pls note that there will be no postponement or cancellation allowed once payment is made)