Join Prenatal Yoga Teacher Training in Singapore
This Prenatal Yoga Certification Course (Singapore) is specifically designed for individuals who wish to be certified as a Prenatal Yoga Teacher in Singapore, including current yoga teachers as well as fitness professionals who want a deeper understanding of pre-natal yoga. 
Learn how to accommodate pregnant women in your group/private yoga classes with modified poses and sequences and understand the condition of pregnancy within medical and yoga terms.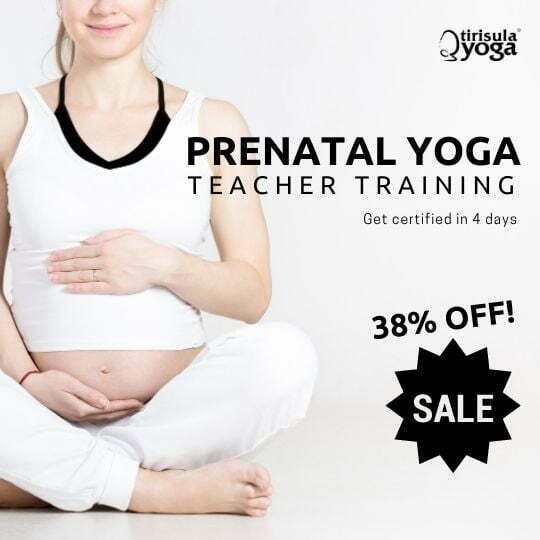 Fees at 38% discount! Usual $1400, now $868. Sign up now.
Requirements:
---
Participants from all walks of life are welcome.
Disclaimer: Please seek medical clearance from your healthcare practitioner if you are pregnant and intend to pursue this course.
Duration:
---
4 days
Weekend: Sat and Sun 1030am to 230pm
Course hours: 16 hours
Homework: 8 hours
Self-study and research: 6 hours
Teaching practice: 10 hours
TOTAL HOURS: 40 hours
Trainers and Course Facilitators:
Andrea McKenna
Andrea, a registered Yoga Alliance instructor, has been practicing yoga for 20+ years and has 19 years professional experience teaching yoga to adults and children of all levels. A former competitive athlete and professional fitness instructor, Andrea discovered the benefits of Hatha, Ashtanga, Bikram and Restorative yoga while training for international and national select-side rugby in the United States.
Making the mind-body connection helped her elevate her game performance, support injury recovery and prevention, as well as maintain general training and conditioning. Yoga also improved her mental health, a huge benefit which Andrea seeks to share with yogis of all backgrounds.
As she moved on from competitive sports and became a Mommy to baby Georgia Grace in 2012,  Andrea sought to expand her yoga experience to include a variety of levels, from beginner to advanced and from children to older practitioners, including practices that feature prenatal yoga for new Mommies and Mommies-to-be.
Andrea has completed Levels 1-5 of training through YogaFit in the United States over the past 10 years. In 2013, she completed the 200-hour Ashtanga Primary Series Teacher Training, as well as Kids Yoga Teacher Training and Pre- and Post-Natal Teacher Training, through Tirisula Yoga in Singapore. Andrea currently teaches Hatha, Ashtanga, Kundalini, Kids and Prenatal Yoga classes.
Curriculum of Prenatal Yoga Classes Singapore
---
1. General Background in the Specialty Area:
Understanding importance of informed consent and medical clearance
Understanding how pregnancy affects the psyche of the pregnant and postpartum woman
Understanding conditions and risk factors that determine high-risk and non-high-risk pregnancy, and how to differentiate between the two
2. Techniques, Training and Practice:
Basic Hatha Vinyasa/ Ashtanga asana and sequences, alignment, pranayama and meditation techniques
Appropriate asana for each trimester of pregnancy and postpartum
Proper alignment and modifications for each trimester and postpartum
Sequencing techniques
Asana and pranayama contraindications
Relaxation techniques for stress management, labour and delivery
3. Teaching Methodology:
Learning effective communication skills for special pregnancy population
Sequencing and teaching yoga classes for women in each trimester
Sequencing and teaching yoga classes for beginner, intermediate, advanced pregnant women
Learning modifications for pregnant participants of regular yoga classes
4. Anatomy and Physiology:
Discussion of pregnancy and the subtle body
In-depth explanation of the female pelvic anatomy—pelvic movement and pelvic floor muscles
Anatomical and physiological changes in pregnancy
Normal labour and delivery process
Pregnancy-related or pregnancy-induced medical conditions and complications
5. Yoga Philosophy, Lifestyle and Ethics for Prenatal Yoga Teachers:
Application of the Yoga Sutras of Patanjali during pregnancy
Application of the Yamas and Niyamas in pregnancy and postpartum
6. Teaching Practice:
Peer teaching during course
Teaching your friends or family for 10 hours
For certification:
Please email us a 30min video of your teaching (to 1 to 4 students) for the lead trainer's approval after completing your 10 hrs of teaching practice.
Course Fee:
Usual fees: SGD 1400
Now promo at 38% off, SGD 868!
Registration:
Full payment upon registration. Online registration and payment.
Registration deadline: 1 weeks before the start date
Minimum 2 students to start