200hr Yoga Teacher Training
Center Your Body And Mind, Stretch The Possibilities.
Get trained in Ashtanga Vinyasa, Hatha and Flow style. Be versatile in teaching multiple styles of yoga classes
Are you ready to embark on this Yoga learning journey? Introducing our new format in Jan 2023, with shorter in-studio course hours to suit your busy schedules and more live co-teaching experiences to learn better.
What makes our Tirisula Yoga programme so unique?
Excellent Teaching Strategies
Our yoga students come from different parts of the world-– diverse races, backgrounds, careers and so on. But in our classrooms, they learn as one family. We teach and guide them different techniques and strategies to become expert.
Better Career Opportunities
Our graduates of our Yoga Teacher Training course earn a higher starting salary or private class fees on the average, due to the remarkable standards of training set by Tirisula Yoga Master trainers.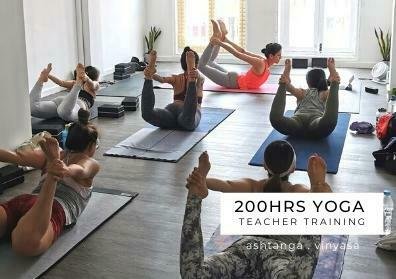 Graduates get opportunities to teach at our studios
immediately
What You will learn in 200 Hour Yoga Teacher Training Malaysia?
Practical
More than 200 yoga postures
Conditioning and systematic development of strength, stamina and flexibility
Yogic breathing
Mudras
Meditation techniques
Yoga Nidra (relaxation)
Theory: Yoga Philosophy, Anatomy and physiology
What is Yoga
History of Yoga development and evolution
8 limbs of Yoga
3 Gunas
Chakras
Mantra
Kundalini and Nadi
Basic body systems such as digestive, respiratory, skeletal, muscular
Movement terminology
Applications of anatomy to Yoga practice
Teaching methodology
How to teach a beginners, intermediate and multi-level class
How to write lesson plans
Instructional cues
Asana adjustments
Asana alignment
Yoga Teacher Training in Malaysia is designed for those who are
Interested in yoga or seeking a yoga career
Fitness professionals with no formal yoga certification
Looking for a deeper understanding of the science and philosophy of  Yoga
Interested in learning proper techniques of Yoga practice
What is the Criteria to be a Part of 200 Hour Yoga Teacher Training?
None at all  (For beginners, it is recommended that you attend at least 30 Yoga Classes at our school to get familiarised with the practice.)
No minimum or maximum weight or height
All can be taught, all can learn
In case of medical conditions, please write to us.
Why You Should Choose Tirisula Yoga?
We are the Pioneers of yoga teacher training courses in Singapore (20 years)
Learning is thru practice and experiential manner instead of academic
Master Trainers are experienced in various yoga techniques and were trained by the very best in India
All our master trainers are all professionals with a minimum of 10 years teaching experience
Students of any background can enroll in our programmes – even those without any prior experience in the practice of yoga
We are registered Yoga Academy with World Yoga Alliance, India.
Tirisula is well recognised World wide
What do I need to do to get the 200 Hour Yoga Teacher Training Certification?
 For those who wish to teach all over the World, and to learn Yoga in the experiential and traditional method.  We are registered school with World Yoga Alliance.
Breakdown of Duration

90hrs in studio: 14 days of 6hrs daily (Posture practice and theory)
20hrs of reading, homework, articles assigned by the Master trainer
10hrs of internship/co-teaching with Master Trainer in studio 
30hrs of home posture practice with sample teaching styles and guidelines from the Master Trainers
20hrs of project work (individual/group)
20hrs of teaching with friends and family at your own venue
10hrs of exam and preparation
Exam
Practical Posture Exam (20 Yoga poses)
Teaching Exam
Theory Exam (all multiple choice questions)
What does the fee of Yoga Course include? 
The fees include the course fee, one time exam fees, e-manual and e-certificate
The fees exclude World Yoga Alliance registration fees
Refer to our terms and conditions for postponement and cancellation policy.
Prices are non-negotiable.
Schedule
Course Duration: 14 days, excluding break
Separate Exam Date: 1 day
July & Aug Weekend Batch
Sat and Sun: 15 July to 27 Aug 2023 + Exam on 10 Sep
8:30am to 2:30pm
Limited to 12 pax per batch only.
Immediate job postings after graduation for selected candidates.
Fees
Early bird: RM 5980 (Register by 15 June 2023) (extended to 1 July 2023)
Standard: RM 6980
Full payment upon registration
Payment by Duitnow or Bank Transfer. Send us a message at 017 971 0109 for payment details.
If you've got any questions about the Yoga Teacher Training Certification Course in Malaysia, please feel free to whatsapp us!