Kids' Yoga Teacher Training
This Kids' Yoga Teacher Training (Singapore) is specifically designed for individuals who wish to be certified. The course is open to yoga teachers, fitness professionals, school/child-care teachers and others who love working with children. Participants in Kids' yoga certification course will learn fun-filled ways to engage kids of all ages, providing them with the necessary tools to live a healthy, peaceful and well-balanced life through yoga.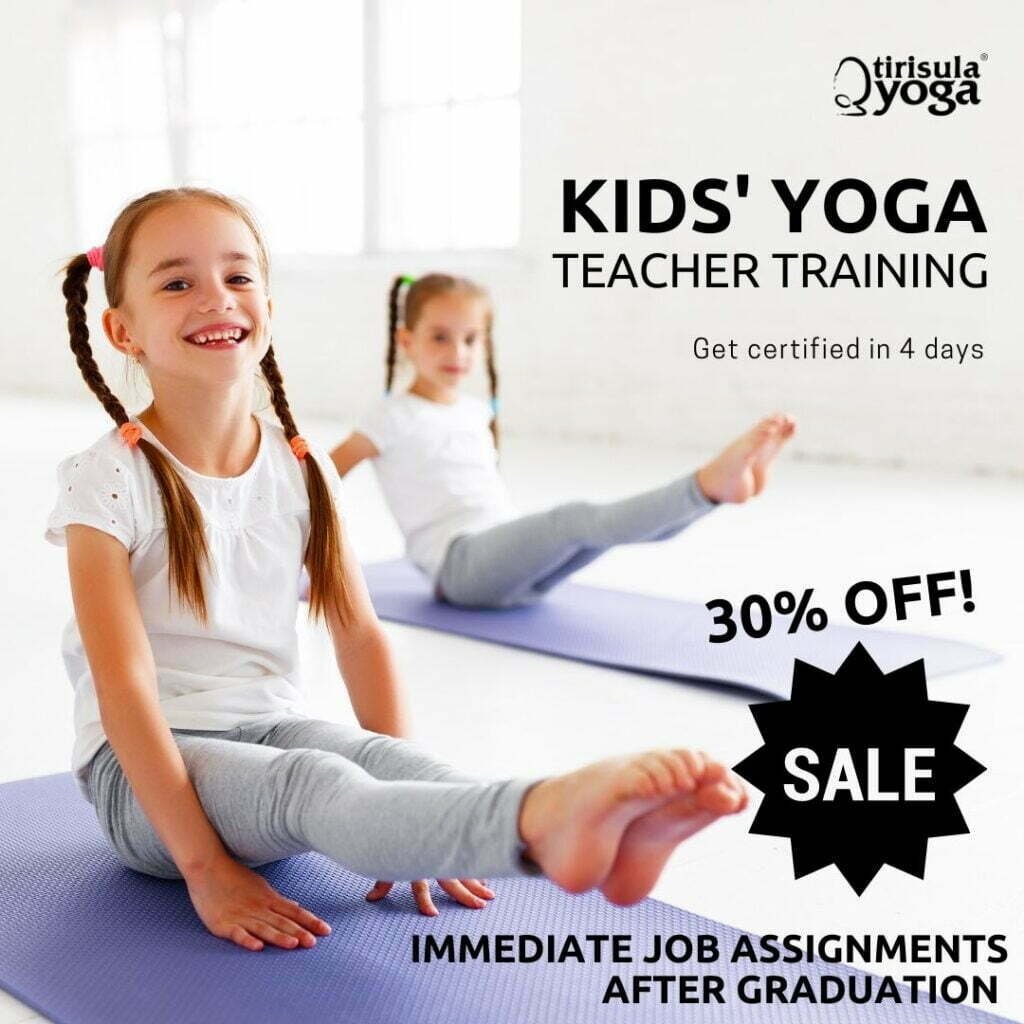 Our approach to kid's yoga incorporates the use of asana, pranayama, dance, props, music, art, games, storytelling, and imagination to stimulate children's senses, while stretching and strengthening their developing bodies.
We learn to have FUN so we can share yoga in a positive way.
Fees at 30% off! Sign up now!
Check schedule and register now!
Duration:
4 days, 6 hours daily
Course hours: 24 hrs

Homework: 8 hours
Self-study & research: 8 hrs
Teaching practice: 10 hours
TOTAL HOURS: 50 hours
Requirements:
Participants from all walks of life are welcome.
Willingness to become a kid again and have fun!
Curriculum
1. General Background in the Specialty Area:
Benefits of children's yoga
How to teach children from different age groups (ages 2-4, 4-6, 7-9, 10-12, 13-15) and mixed age groups
Understanding the different developmental stages
How to communicated effectively with parents, guardians and teachers
2. Techniques, Training and Practice
Basic Hatha Vinyasa/ Ashtanga asanas and sequences, alignment, pranayama and meditation techniques
Asana sequences and creative movement routines appropriate to age group and developmental stage
Proper alignment and modifications specific to age group and developmental stage
Learning children's yoga sequencing techniques
Understanding asana and pranayama contraindications in children
Application and teaching of relaxation techniques
Use of games, books and activities
Incorporation of music, songs and chanting
3. Teaching Methodology
Kids' Yoga Course begins with yoga lesson planning
Organisation of games and activities
Learning behavioral classroom management techniques
Communication with children from different age groups and children with special needs
Understanding the different needs and conditions of special needs children
Applying modifications to accommodate special needs children
Using songs, stories and other activities to express Yogic principles and asanas
4. Anatomy and Physiology
Understanding childhood developmental anatomy and physiology
Application of childhood developmental anatomy and physiology to asanas and pranayama (including benefits, contraindications, normal ranges of movement)
Understanding energy anatomy and physiology (including chakras, nadis)
5. Yoga Philosophy, Lifestyle and Ethics for Children's Yoga Teachers
Application of the Yoga Sutras of Patanjali to children
Application of the Yamas and Niyamas in children at different age groups
Discussion of ethical language and behviour both when parents or guardians are present and when they are not
Understanding supervision requirements of children and special needs children
6. Teaching hours
Peer teaching (assessed by Lead Trainer)
Gather your children, friends and family's children and teach 10 hours.
Record a 30 min video of your class and submit to Lead Trainer for review to receive certification.
Course Fee:
SGD 1400
Now 30% off! Now SGD 980! Limited to 8 pax only.
Location:
Paya Lebar Branch
789A Geylang Road, Singapore 389695
Registration:
Online Registration. Full payment upon registration via Stripe. (Mastercard, Visa, Amex are accepted)
Registration Deadline: 2 weeks before the start date
Min 3 students to start
Any further questions, please feel free to leave us a message below.