Boat Quay Yoga Studio, Singapore CBD
April Promotion!
Free Class Credits with Boat Quay Class Packages
Promo period: 1 April till 30 April 2022
Get FREE class credits when you purchase these packages:

Start Pack, 10 classes, get 1 class free
Pop Pack, 20 classes, get 2 classes free
Wow Pack, 30 classes, get 4 classes free
Power Pack, 50 classes, get 8 classes free
Squeeze in a Yoga practice before work, during lunch, or after work by popping by our conveniently located studio located in the CBD. We're at South Bridge Road, directly above Dopa Dopa (the artisan ice-cream and cafe) Get a good stretch, yoga workout and relaxation taught by our highly trained yoga professionals.
Revamp your body & reconnect your Soul with the finest Yoga Studio in Singapore. Join today.
Yoga Studio
Address: 29A South Bridge Road, Singapore 058665
1 studio:
Capacity 15 mats
Yoga Mats and Blocks provided
Bring your own Yoga Mat towel or travel mat (to lay over the studio mats), small workout towel and drinking water
Questions?
Email to [email protected]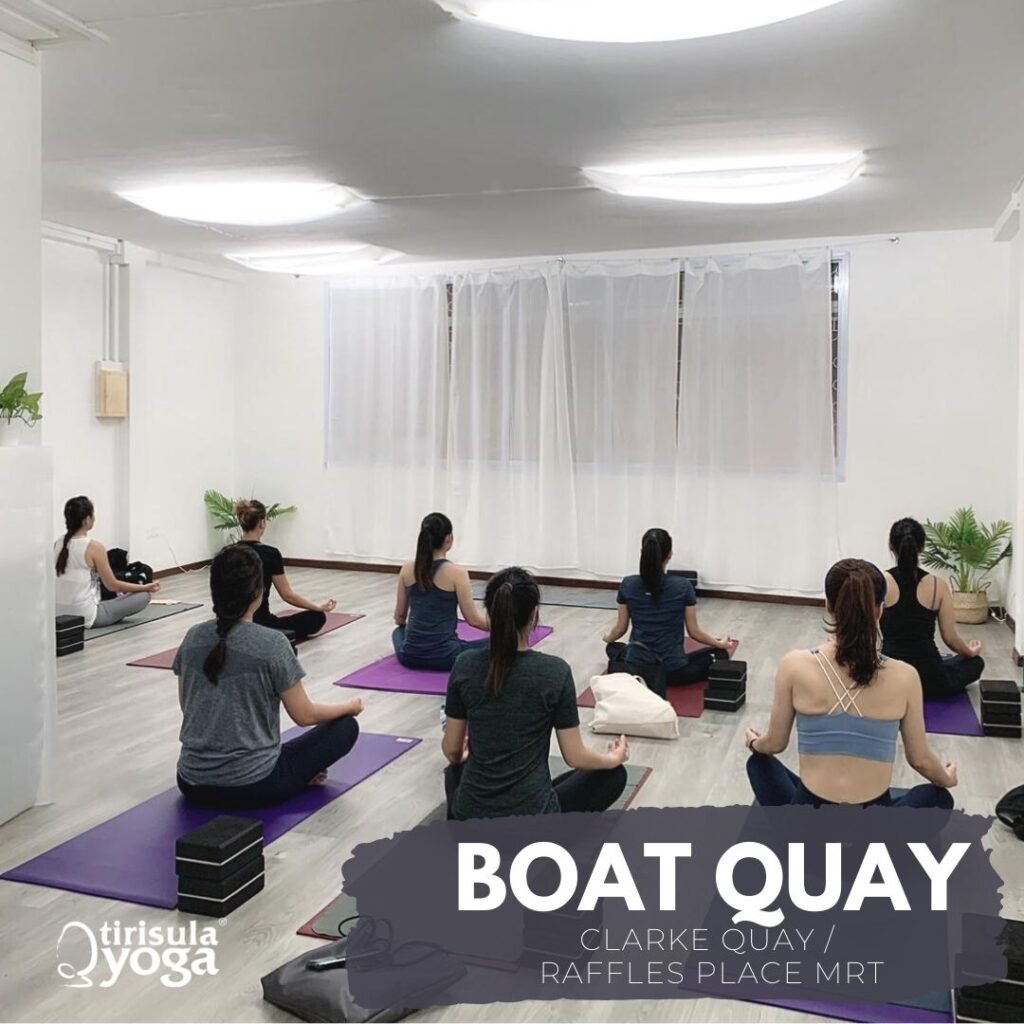 Pricing (Boat Quay studio)
These packages are for Boat Quay Studio only
The start of validity is on the day of your first class. But you have to activate the package within 1 month of purchase. 
Packages are sharable, except trial pack and start pack. Can only be shared with 1 fixed nominated buddy from the start of the package. 
To get started, create an account and purchase a package now! Then book for your favourite class at least 2 hrs in advance. (For prime slots, please book early) 
Cancel at least 6 hrs ahead to get your credit refunded. 
Please check your validity date and finish the credits before that. Expired credits will be forgone. 
We don't have free trials, a 3 class-trial pack is recommended if you're new to our studio.
I wish to share my package with:
How to get here
29A South Bridge Road, Singapore 058665
By MRT:
Clarke Quay / Raffles Place
By Bus:
Lots of buses along South Bridge Road
Parking:
Public carpark at Carpenter Street or Upper Circular Road
Multi-storey carpark at The Riverwalk